Experience
How do you define the Paul Experience?
What makes your education at Paul College different than at other other business schools? Our students will tell you it's the unique experiences they have that help them put what they learn in the classroom into practice on real-world projects with real-world clients. Employers will tell you our students excel because of the competencies and confidence they build as they learn while doing. 
Projects with real companies. Investments with real money. Learning with real stakes.
Build a resume of experience that will set you apart.
AT PAUL COLLEGE YOU ARE A BUSINESS STUDENT FROM DAY ONE
First-Year Research and Innovation Experience
Paul students spend their first year with us earning points and prizes for engaging in college life and building relationships with faculty, staff, and other students. During FIRE, teams of students participate in healthy competitions under the exclusive mentorship of an upperclassman and Paul College alum. Learn research skills, make friends, and better understand all the opportunities UNH has to offer.
INDUSTRY PARTNERS WILL HELP YOU PUT WHAT YOU LEARN INTO PRACTICE
Business in Practice Program
Get a head start on advancing your career by tapping into years of experience from industry experts. In BiP, working professionals design and deliver a broad spectrum of two-credit courses that bridge the gap between current business practices and the foundational knowledge taught in our core curriculum. Classroom environments closely mirror actual work environments. Become an active participant in your education through experiential learning, real-world scenarios, and client projects.
YOU CAN LEAD COURSES THAT DEFINE YOUR EXPERIENCE
AN OPPORTUNITY FOR EVERY PATH
Rutman/Och Advancing Women's Leadership Initiative
High-performing young leaders are selected to join and cohort of students committed to advancing women's leadership in business and economics and receive scholarship funding.
Internship Opportunity Fund
This scholarship fund provides $2,500 stipends to help students take advantage of high-quality internships in expensive metropolitan areas – or for unpaid internships at a non-profit, social enterprise or start-up.
UNDERGRADUATE RESEARCH CONFERENCE
A celebration of academic excellence, close to 2,000 UNH undergraduate students from all academic disciplines annually showcase the results of research, scholarly, and creative projects.
Holloway Business idea competition
Pitch your business idea for a chance at over $15,000 in seed money. This multi-track, semester-long competition challenges participants to develop products or services into full-fledged business plans and present them to industry professionals.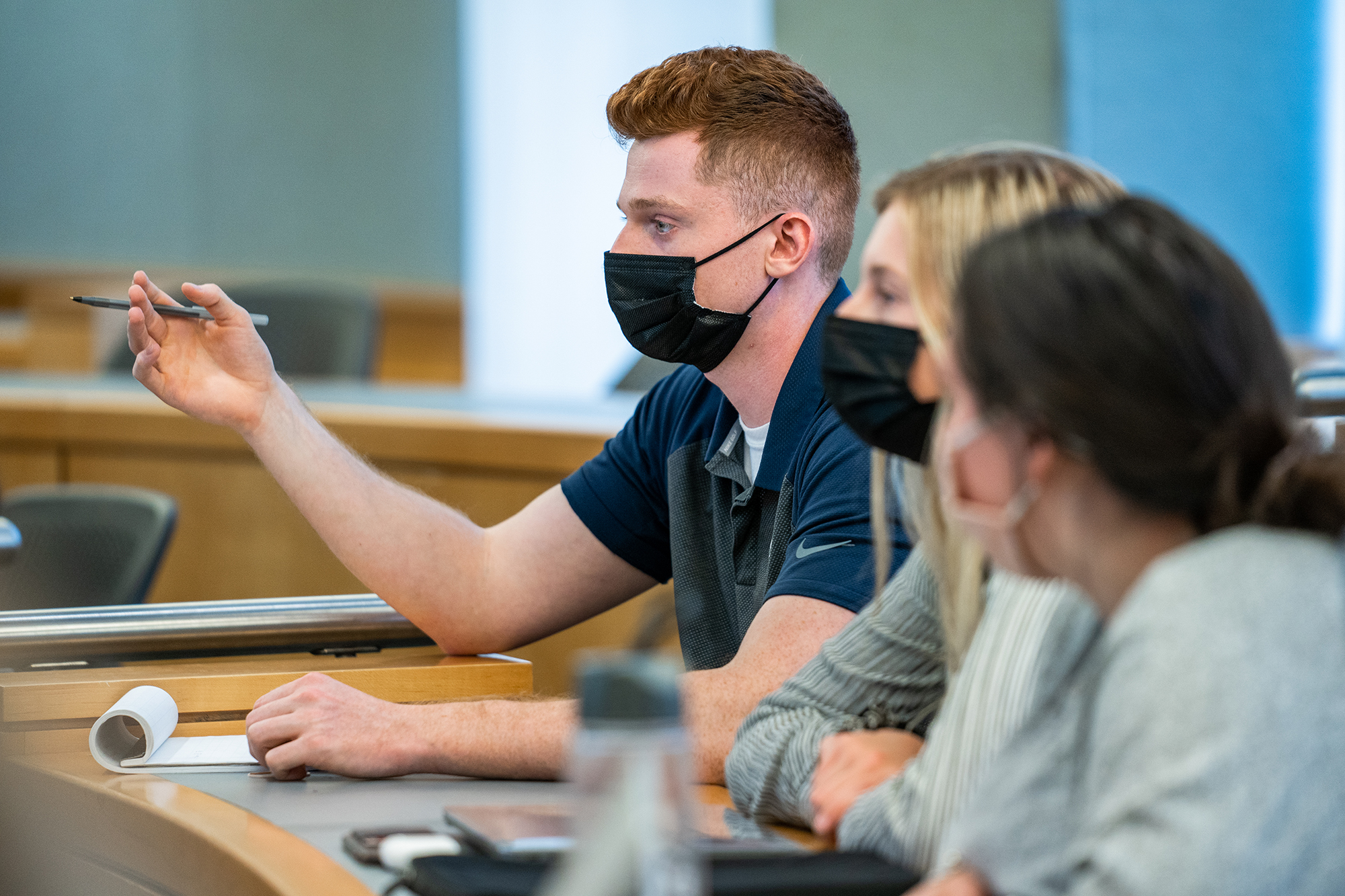 PAUL COLLEGE HONORS PROGRAM
A 10-credit program separate from the UNH Honors College that gives Paul students the opportunity to stand out among their peers, work on a consulting project with a small business in New Hampshire, and conduct research as an undergraduate. 
Real-World Capstone Projects
Our seniors put academics into action by working as part of a team to help local companies develop innovative solutions to real business challenges.
WOMEN IN BUSINESS CLUB
WIB strives to empower and educate its members regarding issues relevant to women in the business world. Memebership offers opportunities to develop professional skills through guest lectures, leadership workshops, community service projects, and networking events. They also organize a large annual conference at Paul College.
Alpha kappa psi business fraternity
AKPsi is an international organization that focuses on providing ethical leadership and professional development. Through educational programs, community service and a hands-on application of formal education, members grow and develop practices most needed in business leadership today.
EXPERIENTIAL CAMPUS PARTNERS
Study Abroad
Learn business through a global lens by studying abroad. Paul has four targeted programs in the Dominican Republic, Hungary, Italy and France, and there are more than 500 approved programs to choose from. 
Peter T. Paul Entrepreneurship Center
Develop your entrepreneurial mind-set as you learn to see opportunities and identify creative solutions others have missed, one idea at a time.
Engage with social innovation, an exciting emerging field which harnesses the tools of business and public policy to contribute to a socially and environmentally more sustainable world.
Student Clubs & Organizations
Paul College currently supports 19 student clubs and organizations. Enhance your classroom learning experiences while meeting students with similar interests and building lasting friendships in groups like Marketing and Advertising Club, Women in Business, Entrepreneurship Club, and more!